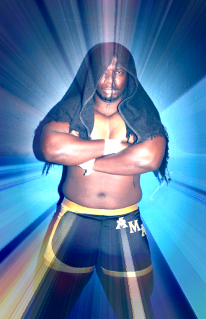 JD AMAZING
Height:
6'2"
Weight:
248 lbs
From:
North side of Jacksonville Florida
Career Highlight:
SCW Florida Heavyweight Champion
Bio:
Dubbed as "The Next Sure Thing" by his peers, JD Amazing made his professional wrestling debut in April of 2010. Training under the likes of Alex Pourteau, Larry Zbyszko and Scott Hall, JD was given the name "Amazing" because of the quickness and agility displayed by someone of his size.
JDA joined SCW in June 2011 reforming The Green Light District 2.0 along with Brandon Scherer and Jason Sensation who was a member of the original stable.
In July 2011, JD Amazing challenged for the SCW Florida Heavyweight title, however, the match ended in a no contest. His quest for gold was sidelined in September 2011 when he suffered a broken leg during a match. Despite being advised to wait 4-6 months, he managed to return to competition in only 9 weeks. When he did return from injury, JDA had a new attitude, and so did the Green Light District 2.0 who rebranded themselves as the Green Light Hit Squad.
On November 2, 2012, JD Amazing captured the SCW Florida Heavyweight Title. JDA now proclaims to be the last true fighter in a land filled with "sports entertainers".
Bio by Jamie Dobson
Check out SCW at:
http://www.scwwrestling.com
http://www.twitter.com/scwfl
http://www.facebook.com/SCWFL